The look of standing-seam roofs at a lower cost. You get big benefits like extra durability, a gorgeous appearance and potential savings on energy bills and homeowner's insurance. AP Panels are a smart idea for new construction and applications where the existing roof covering is removed to decking. They're designed with residential roofs in mind, but work very well on commercial buildings, too.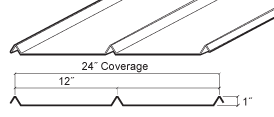 AP Panel Benefits:
Up to a 30-Year Limited Paint Warranty
A Wide Range of Designer Colors
Hail Resistant – Underwriters Laboratories Class-4 Rating
Fire Resistant
Wind Resistant up to 140 mph
Practically Maintenance Free
26-Gauge - Commercial Grade Steel
Energy Efficient
Greater Life Expectancy
Outstanding Durability
Possible Insurance Savings
Note: AP Panel has a pass-though system. Screws will show.
A wavy appearance — called "oil canning" — often occurs in the flat areas of formed metal products, such as metal roofs. Oil canning doesn't compromise the structural integrity of the metal – it's simply an aesthetic issue, and sometimes affects Mueller's CF, AP and Standing Seam Panels. The term oil canning is an industry standard used to describe this occurrence and is not a reason for rejection.